Windsor Castle Facts and History
Windsor Castle is the one of the most famous castles in the entire world. From the moment of its creation it was associated not only with the wealth and advanced architecture, but also with royalty that lived in it. With is thousand year occupation by the royal family of England, Windsor castle represents the longest-occupied palace in Europe and one of the most visited tourists attraction in England.
Castle was built on the small hill alongside river Thames, a location that was previously used by both Celts and Romans who reinforced that area with forts and hill forts. The original Windsor castle (one of nine castles that were created around London) was built in 11th century as a simple mote and baley castle, created predominately from wood. Henry I became attached to this castle, intending for it to become royal house for English crown. This started the age of gradual reconstruction of the castle from its simple design to the magnificent form it now possesses. Here are some of the most major upgrades castle Windsor received since its creation: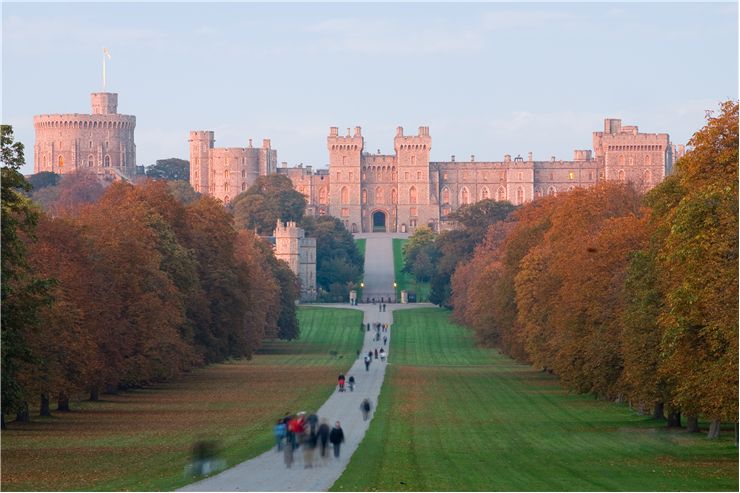 Henry II built stone curtain wall around the castle and stone Round Tower.
Henry III transformed castle into luxurious palace.
Edward III redesigned it substantially, making from it one of the most expensive buildings of the European Middle Ages.
Henry VIII and Elizabeth I made from Windsor castle the center of the British crown and the diplomatic entertainment
During English Civil War (1642–1651) castle was used as a prison for Charles I and a military headquarters for Parliamentary forces.
Charles II rebuilt castle Windsor in a baroque style.
George III and George IV used tremendous amount of wealth to redecorated entire castle.
During WW2, castle was used as home to entire royal family during German bombing campaigns.
Large fire destroyed much of the castle in 1992. After years of restoration, castle was rebuilt and parts of it were offered to a public as tourist attraction.
Today, over 500 people works and lives in Windsor castle, maintaining it as both tourist attraction and a functioning royal home and location for numerous royal gatherings, state banquets and official entertaining events. More than million tourists who visit Windsor each year can witness much of its history and see large portion of the Royal Collection of art.