Warwick Castle Facts
Warwick Castle is one of the best known castles in central England. Created on the location of the medieval wooden military fortification, it received major upgrade to the stone fortress under the William the Conqueror, and was adapted into stone castle during 12th century. Even though it managed to provide excellent service during the years of Norman invasions, castle Warwick became one of the best known strongholds during the Hundred Years War, when it served as an example for many military stone castles that were created in 14th and 15th century.
During its thousand year long history, several families served as the custodians of the Warwick Castle. Tightly connected to the crown, this castle played a pivotal role in the advancement of castle construction, it hosted nobility from all around the world, served as a playing ground to the famous knight games that became integral part of the European medieval history, and eventually served as one of the most famous English tourists locations.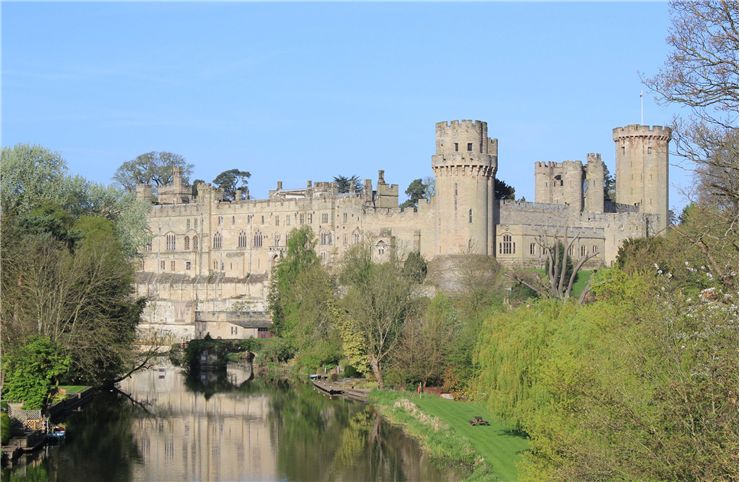 The most famous families that served as Earls of Warwick were Newburgh (11th – 13th century), De Beauchamp (13th – mid-16th), Dudley (mid-16th to end of 16th), Rich (17th-mid 18th), Greville (mid 18th to late 20th). During two times in its history, Crown took ownership over Warwick castle twice, and the current owners are entertainment company Tussauds Group (2nd largest leisure group in the world, after Disney). They bought the castle from Greville family in 1978, after it being in their possession for 374 years.
Today, Warwick castle represents one of the most famous tourist attractions in the England, and is protected as one of the most important heritage sites of Europe. Tourist can today visits its walls, keeps, stables, gardens, and see the largest working trebuchet in the world (18 meters high).