Tower of London History and Facts
Created during Norman Conquest of England, Tower of London (officially named "Her Majesty's Royal Palace and Fortress") located on north bank of the River Thames in central London quickly became one of the most famous castles in the medieval England and the entire Europe. Its claim to fame started from its creation on the Tower Hill by the hands of William the Conqueror in 1078. Because of its close connection to the oppressing Norman forces who came and attacked England in 11th century, this castle held its bad reputation for centuries to come. Immediately after the fall of William the Conqueror, sections of Tower of London were dedicated to a prison that during its long life held mostly high profile prisoners. First prisoner was Norman Bishop of Durham, Ranulf Flambard in 1100, and the last ones were Kray twins in 1952 (organized crime lords). Some of the most famous prisoners of Tower of London were Edward V of England and Richard of Shrewsbury, Duke of York, most commonly known as Princes in the Tower. Reputation of Tower of London was always a bleak one, with the English population adopting the phrase "sent to the Tower", with hints that the prisoners here will be subjected to torture, starvation and death.
As a royal residence and a military outpost of high importance, the Tower of London went through several phases of reconstruction and expansion. The most important building periods happened during the reigns of King Richard the Lionheart, Henry III, Edward I, and the Tudors. However, because all the upgrades did not manage to make this castle defendable against artillery, after 15th century it was most commonly used as a prison (with hundreds and hundreds of prisoners being executed on the nearby Tower Hill), mint, armory, treasury, public records office, menagerie, and the home of the Crown Jewels of the United Kingdom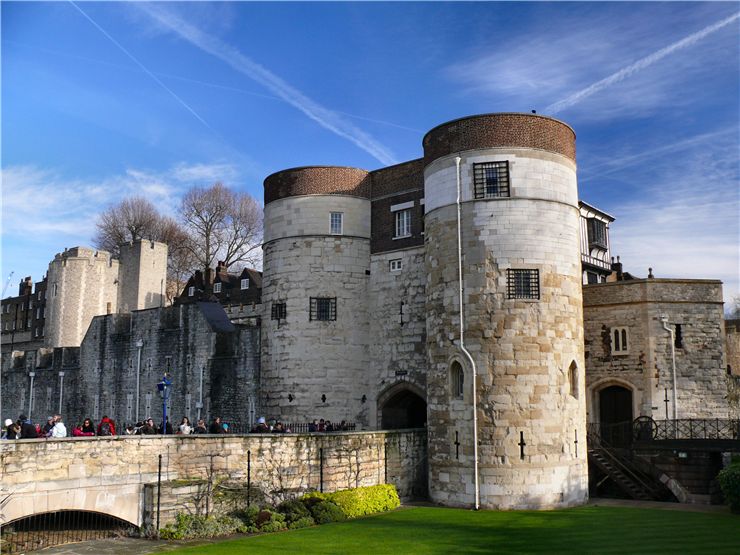 After World War II, Tower of London was damaged during German bombing campaigns, but the castle was quickly repaired and reopened to the public. Even though the public interest in visiting Tower of London was present even in 18th and 19th century, reopening after WW2 marked a turning point. Tourists from all across England and the World visit this famous historic castle which is today home of the much of the Royal Menagerie, displays of amours, and the Crown Jewels. Today, over million people visit Tower of London each year.