Neuschwanstein Castle History and Facts
Without a doubt, Neuschwanstein Castle represents one of the most popular and most visited castles in the Germany. It was built in the German region of Bavaria, near the town Fussen by the commission of the King Ludwig II of Bavaria, who was known by his nickname "Fairytale King". He has built this castle to be his residence, and to support the lifetime of work of the German composer Richard Wagner who promoted romanticized view on the medieval renaissance fashion.
Construction of Neuschwanstein Castle lasted for 25 years, and during that period King Ludwig II died and he was not able to see it finished. Construction started in 1868 by clearing the rocky perch on which castle would be built. With the finished road to the construction site, work on the foundation building started in 1869, and central throne room in 1872. After that Gateway building was finished and prepared for occupation (1873), topping of Palas was performed in 1880, interior decoration finished in 1884, castle was opened to the public in 1886 (less than 2 months after the death of King Ludwig II) and finally, castle was finished in 1892 with the completion of the Bower and Square tower.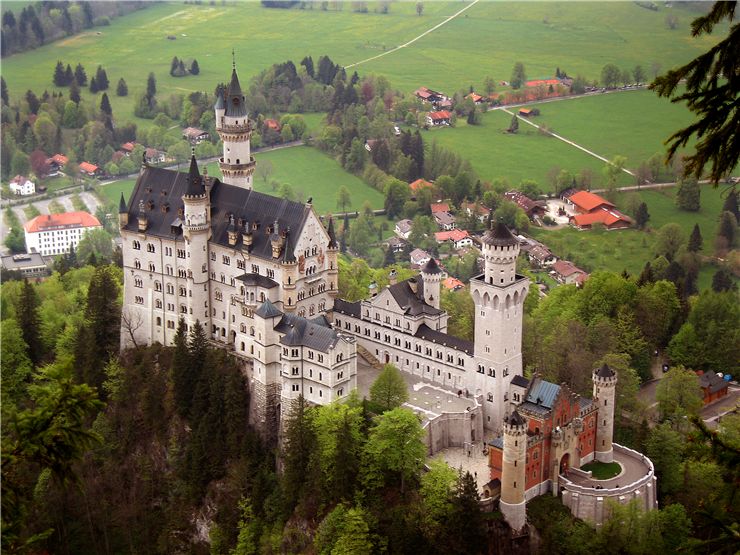 Neuschwanstein Castle was one of the most expensive castles ever made in Europe, with the construction cost reaching 7 million marks. Its incredible luxury and complicated construction technique imediatley captured the attention of the public, and tourists from all around the world came visiting. This popularity naturally led to the apperiance of the castle in many movies and other art mediums, and the castle itself served as one of the most popular inspirations of "medieval fantasy castle". This can most notably be seen in the Disneyland's Sleeping Beauty's Castle, which was conceived with the Neuschwanstein Castle as its inspiration.
Over 1.3 million people visit Neuschwanstein Castle annually.