Facts and History of Conwy Castle
Conwy Castle is today considered by many historians and artists as one of the finest castles ever created in the 13th and 14th century in Europe. It was built with the enormous expense to be not only a simple military castle, but a impressive fortification that can held inside its walls entire town. Because of its impressive architecture, defensive capabilities and the towering nature that captured minds of both military leaders, royals and artists, Conwy castle went through turbulent events that shaped its modern form.
Conwy Castle was built in the location that was previously occupied by Aberconwy Abbey, located on a hill looking over the important crossing over river Conwy. Decision for castle creation came from King Edward I, who invaded Wales with the huge army in 1282 and captured Aberconwy abbey in 1283. It was then that he ordered creation of the very expensive castle, with reinforced walls that protected not only castle itself, but also entire city. Construction of the castle and its impressive walls lasted until late 1280s (in total, 1.3km of walls were made, with 21 towers and three gatehouses), and the entire castle coasted around £15,000. This made it one of the most expensive castles ever created by that time.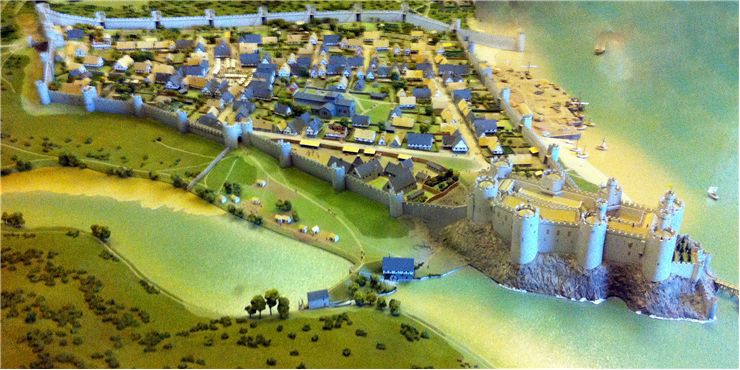 Some of the most important moments from the Conwy castle history are:
1283 – Castle construction beings by the order of King Edward I.
1294-95 – Conwy castle survived winter siege of Madog ap Llywelyn.
1399 – Castle served as a temporary home of Richard II, before his imprisonment and death.
1401 – Castle was taken by the forces Owain Glyndŵr, the last native Welshman to hold the title Prince of Wales.
1642-1646 – During the English Ciwil war, castle Conwy was held by the forces of Charles I.
1647 – Parliament forces partially destroyed defensive capabilities of Conwy in efforts to prevent its future military use.
1665 – Majority of castle iron was striped and sold, castle was left defenseless, was sold and left to ruin.
18th century – Artist and historians started to view Conwy castle as one of the most beautiful castle ruins in the world. Some of the most famous paintings of castle were made by Julius Caesar Ibbetson, Paul Sandby, Tomas Cirtin, and others.
19th century – Modern infrastructure of neighboring cities approached Conwy castle, and several bridges and roads were built in its vicinity. Limited castle restoration begun.
20th century – Railway was constructed near castle, but it did not endanger castle walls. Bu late 20th century castle was again restored slightly, and was opened for public.