Cité de Carcassonne - History and Facts
Cité de Carcassonne is one of the most European famous fortified cities, created in the department of department of Aude, in the French region of Languedoc-Roussillon. With the long history of fortifications on the hill that is located in the right bank of river Aude, Cité de Carcassonn was built initially by Romans and finished by French.
First construction of this walled city that eventually received 52 towers and 3km of strong walls started in the Gallo-Roman period. In 3rd century AD, Romans decided to level down ancient Gaulish fortification and build their own city that could withstand any attack from enemies. From that point on city continued to grow until it reaches its modern size. During its 2500 year long history, this fortress-town was held by numerous conquerors, such as Visigoths, Saracens, Romans and Crusaders.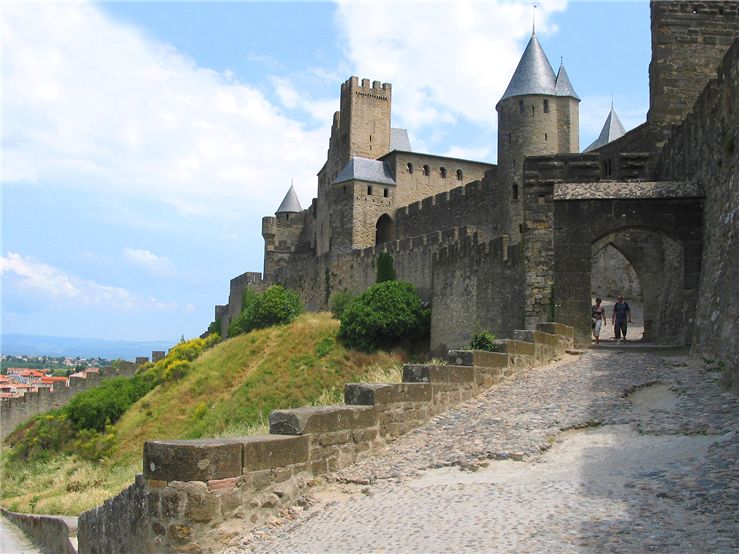 In the mid-13th century, Cité de Carcassonne become part of the Kingdom of France, serving as one of the most important military posts on the frontier between France and confederation of Crown of Aragon. It remained in use as military post until mid-17th century when surrounding lands all became part of France, leaving castle and surrounding city to be transformed into center of the French woolen textile industry.
Cité de Carcassonne was restored only once in in recent history. First restoration was very costly and long, and it happened in 1853 after a long battle between politicians, historians and archeologist against French government that wanted castle to be destroyed. This restoration lasted for more than 40 years, with three architects involved - Eugène Viollet-le-Duc, Paul Boeswillwald and Nodet. Currently, Cité de Carcassonne is a popular tourist destination in France, and one of the best places in world where you can see authentic medieval architecture and its lifestyle.