Facts and History of Alnwick Castle
One of the most famous castles in the northern England is Alnwick Castle, created in the 11th century by Yves de Vescy, Baron of Alnwick. Described in the historical recordings as "very strong", this castle served as an important military post against intrusions of Scottish and border rivers (13th to 17th bands of Scottish and English families, who raided and stole goods in the area of e Anglo–Scottish border without the regard of their victim's nationality). During the first 5 centuries of its life, Alnwick castle went through several renovations, and was besieged several times, it was ordered to be demolished once, and it changed ownership several times. The most major renovation happened under the leadership of Henry Percy, 1st Baron Percy (1273–1314) when Alnwick was transformed into formidable fortress that housed several towers. In addition of its military defenses, Alnwick also got high-end palace where owner's family lived. During the war of the Wars of the Roses, Alnwick saw significant action, sieges and battles near it walls. Further renovations by Robert Adam in 18th and Algernon, 4th Duke of Northumberland in 19th century significantly changed the way Alnwick castle looked and functioned. Under the leadership of famous English architect Anthony Salvin, Alnwick became castle that we know today. He added kitchen, Prudhoe Tower, layout of the inner ward and more.
Today, Alnwick castle is famous as one of the most popular tourist attractions of the northern England. Even though the current Duke of Northumberland and his family are living in this castle (2nd largest inhabited castle in England, after Windsor), over 800 thousand tourists visit it every year. They don't have access to majority of the manor, but they can experience extravagant garden that was created in during first decade of 21st century.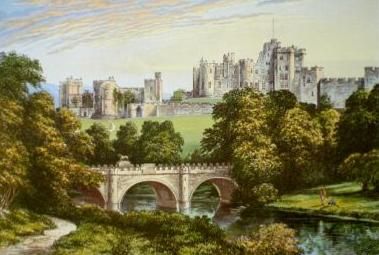 Castle is known worldwide not only by its rich history, but also because of its presence in many films and TV shows, such as "The Black Adder", "Becket", "Robin Hood: Prince of Thieves" and all seven parts of the "Harry Potter" movie franchise.