Leeds Castle Facts
Leeds Castle was built in 1119 by Robert de Crevecoeur as a simple stronghold of mote and bailey that served as a military post in the time of Norman intrusions to England. As time went on, this castle received many upgrades and changes in its look and function, but its true life as one of the landmarks of Kent, England started in 1278 when castle became property of King Edward I (1239 - 1307). He liked this castle a lot, and managed to spend in him majority of his time while he was ruling the England. During his reign, Leeds castle received significant upgrade to its scope and defenses - most notably large lake that was created around the castle, stone bridge that spanned three little islands with several reinforced barbican defenses on it, and Gloriette (elevated keep) in which king and his family resided.
During the reign of Edward II, Leeds castle was involved in its first large battle in 1321. Dispute between Edward II and the Margaret de Clare, Baroness Badlesmere (wife of the castle's constable which was away from the castle during that time) forced Edward II to storm the castle and take Margaret de Clare as a hostage. She was sent to be a prisoner to the Tower of London. Another important piece of Castle Leeds history happened during the reign of Henry VIII, who in 1519 renovated castle in honor of his first wife Catherine of Aragon.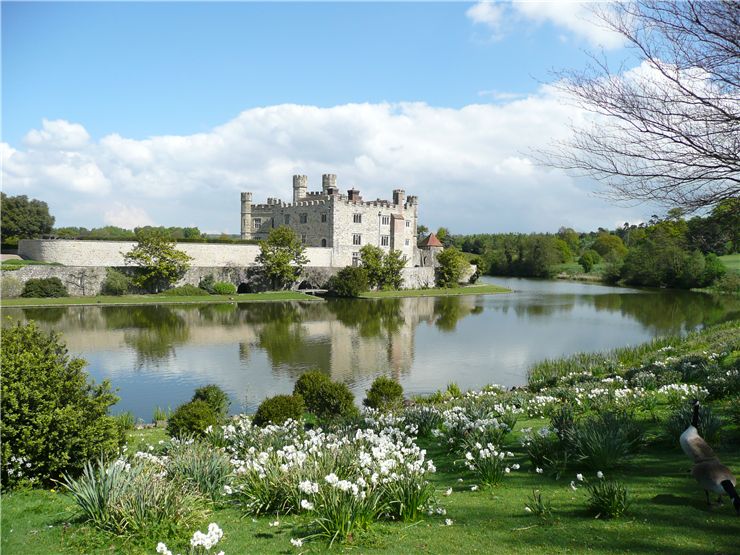 During English Civil war (1642–1651), Leeds castle was used as prison and arsenal, and received many upgrades thanks to its owner Sir Cheney Culpeper receiving large amount of funds for assisting the escape of the Prince of Wales. As one of the biggest prizes, Culpeper's were awarded with more than 5,000,000 acres of land in the North American colony of Virginia.
In 20th century, castle interior was redecorated by Olive, Lady Baillie, Anglo-American heiress. She owned castle trough WW2 (when it was used as a hospital) until her death in 1974, when she left the castle to the private charitable trust Leeds Castle Foundation who had a goal to preserve castle and offer public access to it to tourists. Since 1976, countless tourists visited this amazing castle, and witnessed not only its original state that survived trough centuries, but also new additions, such as aviary with over 100 bird species, garden maze, grotto, golf course, and a world's only museum of dog collars. Today, more than half a million people visit castle Leeds every year.