Château de Chenonceau - History and Facts
Château de Chenonceau is one of the oldest and most beautiful castles in the France that is today only surpassed by the might of the famous Versailles in Paris. It is located near small village Chenonceaux in the Loire Valley and was originally built over the river Cher in the 11th century. In its original form, it had a form of a simple château of Marques family that was eventually burned to the ground in 1412 by the order of French king. Two decades later, Jean Marques managed to rebuild the castle, but his heir decided to sell the castle in 1513 to the nobleman from Normandy - Thomas Bohier. It was he who decided to raze all the buildings, and in their place create a third castle, a castle that has survived to today. Between 1515 and 1522, castle construction is preformed, with all the moats, dojos, gardens and residence quarters that were created in the most authentic Renaissance style of 16th century.
From the moment it was created, beauty and unique style of the castle that was built over the river Cher attracted royalty and nobles from all around the Europe. Numerous French kings visited the castle, as were rulers of Germany and England. In 1559 after the death of King Henri II in a jousting tournament on the Château de Chenonceau grounds, his wife Catherine de' Medici demanded that the castle must be handed into her possession. Under her rule, the castle was expanded with a new style of gardens and construction of grand courtyard, and the grand gallery was finished.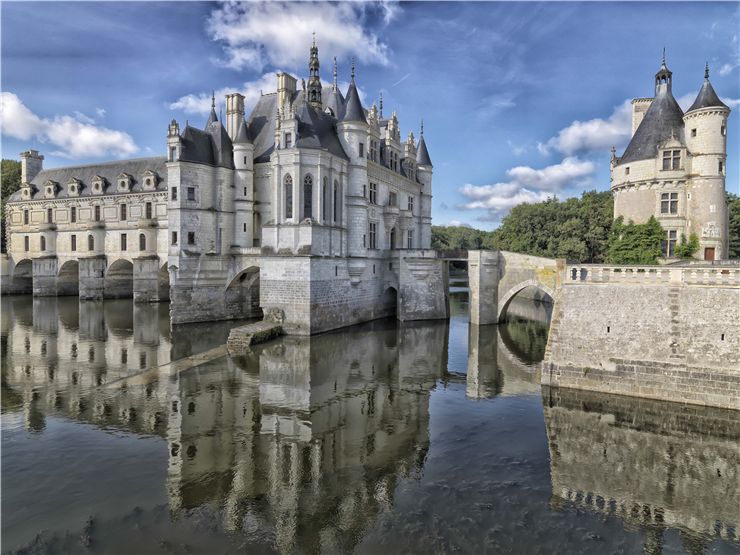 After this golden age of the Château de Chenonceau castle went through several more owners, most notably Claude Dupin (bought it in 1733) and Henri Menier (1913). During World War I castle was used as a hospital, and during the majority of WW2 castle lay dormant after a terrible flood destroyed gardens and surroundings of Castle. Restauration of Château de Chenonceau started in 1951 under the leadership of Menier family. Architect Bernard Voisin managed to restore the entire castle, from its main building, interior, gardens, vineyards and other surrounding buildings.
Today, Château de Chenonceau is the second most visited castle in France with 1.3 annual visitors. It is surpassed only by the Palace of Versailles.